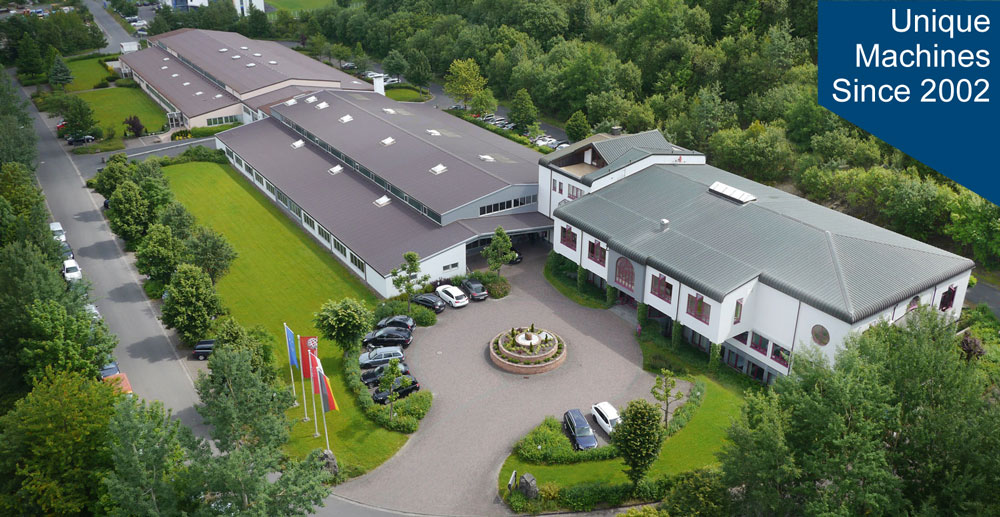 VectraFORM is the authorized distributor/reseller for Imes-Icore GmbH, Germany Industrial CNC machines in India .
Imes-icore combines all the know-how in the development, production, sales and service of complete CNC machine systems with all required additional components and CAD/CAM applications.
Cutting, separating material and assembling processes are offered in the global market in the form of "CNC systems from a single source". The machine systems with the processing sizes of approx. 150 mm x 50mm up to approx. 3000 mm x 6000 mm (other sizes available on request) find their international market mainly in general:
Cutting technology (milling of hard metals, light metals, plastics, wood, styrofoam, ceramics, etc.)
CNC Technology (separation in the water jet cutting process or laser cutting process)
Medical technology (Dental CAD/CAM systems and orthopaedic technology)
Reconstructive procedures (additive manufacture of components by melting wire and powder)
The outstanding advantages of imes-icore CNC systems are their modular structure, open interfaces, and flexibility for applicative adjustments they achieve. In this way, customer requirements can be met very quickly, and at a good price/performance ratio. The CNC systems are supplied as complete solutions, which can also be easily retrofitted and expanded with additional modular components and additional functions.
The Economy cnc milling machine range encompasses the machine range ICP, ICV, Compac, Euromod and Flatcom cnc milling machines. This Economy cnc milling machine range has been in use successfully for many years now in sectors of industry, trade and training. The minimal space requirements, the excellent price-performance ratio, the ease of operation and the special design are all priorities with this range. Economy cnc milling machines are frequently used when a requirement exists for smaller parts for medium machining capacity, or where particularly economical solutions are required. The machines are available for selection in various sizes and can be expanded with a range of options as required (e.g. up to 5 axes/automation)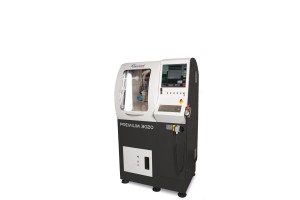 Industry CNC Milling Machines
The imes-icore Industrial range cnc milling machines leaves no wish unanswered. We align the design of the cnc milling machines with the needs and tasks of the customer, to cater for our customers' applications. Produced for use in tough everyday industrial use, the cnc milling machines in the Industrial range are tailored to the diverse demands of the industry. Travel ranges from 400×200 mm to 3000×4000 mm or a clearance height of up to 1000 mm are possible as standard (further sizes on inquiry). Be it 4, 5 or 7 axes, the possibilities are vast. The modular design of the milling machines means they can be expanded and extended. Remain competitive for the future!  In use here are low-wear linear guides for example, which are optionally mounted on granite. High-precision AC servo motors or linear motors and software tailored to the cncn milling machine and accessories, such as rotating/swivelling axes or vacuum tables. The milling systems and their components are fabricated and produced in Germany to the greatest depth of manufacturing. 
Premium CNC Milling Machines
The HSC-Premium cnc milling machine range is setting new benchmarks when it comes to flexibility, precision and efficiency. The Premium range cnc milling machines have been expressly designed for high-precision CNC tasks. The specially produced granite substructures serve as a base for the highly dynamic linear drives, meaning that Premium cnc milling machines enable time-saving production with exceptional quality. The unique cnc machine concept impresses in this range with economical perfection. Customers of the Premium cnc milling machine range originate from graphite processing, medical engineering, microprocessing and precise mould construction.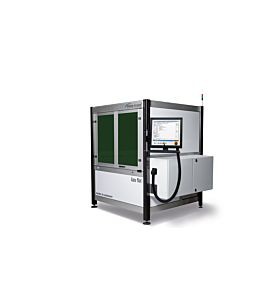 Laser marking/cutting Machines
Unique systems such as the economical i-las diode laser enable the engraving of plastics and foams. The i-las PLATINUM laser is based on the imes-icore PLATINUM concept. The highest quality materials are used here, in order to achieve maximum accuracy. With a fibre laser up to 1000 Watt, the i-las PLATINUM also enables the cutting of metals in larger thicknesses.
To allow the application group a simple selection at the appropriate machine system, we divide our laser machines in: 
Economy-Serie – Laser systems with low installation area for training and prototyping or small batches
Industry-Serie – Laser systems for serial production of router products with long travel
Premium-Serie – Laser systems for the processing of high-precision parts, such as the Micro Laser Cutting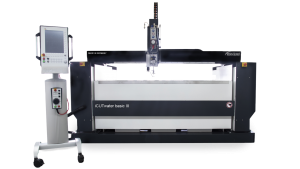 Water Jet Cutting Machines
The water jet is a universal tool for separating practically all materials. A high-pressure pump raises the pressure of the water to more than 6000 bar and accelerates it to several times the speed of sound. Thus, also foam/insulation material, textiles, foodstuff, rubber seals and other light materials can be cut. If an abrasive agent is now added, e.g. garnet sand, the micro-machining effect of the water jet with the accelerated abrasive agent now knows practically no limits for the water jet cutting tasks to be overcome. Thus, for example, also aluminium, steel, stainless steel, titanium, granite or armoured glass can be perfectly cut.
The non-existing thermal load and low mechanical load acting on the workpiece opens up new options for application – also beyond mass production. Due to narrow interleaving and small size of the cutting tool, the procedure concedes less material loss in comparison to other procedures – mainly at a higher speed and with a very good quality of surface cut.
Arbitrary contours are possible at all positions of the slab!
The quality of the cut, from quick and reasonable separation cut up to near-perfect cuts free of post-processing, can be arbitrarily determined.
No toxic vapours or smoke emission
Machining of the most different materials on one machine without changing the tool!