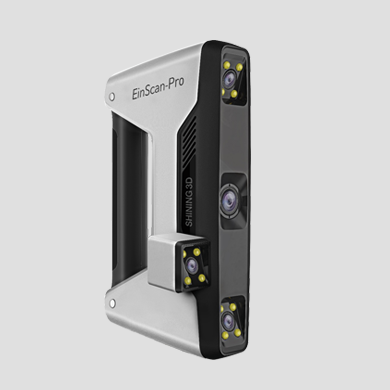 The EinScan-Pro is your best choice for capturing real world data to convert into a digital 3D model. It can be used for consumer and commercial applications in manufacturing, engineering, design, development, testing, artwork archival, animation and even human form acquisition. The EinScan-Pro 3D scanner allows you to use physical objects to better conceptualize an idea or create a starting point for modeling in CAD (Computer Aided Design).
The EinScan-Pro can capture textured and colored objects ranging in size from 0.03m (.0011in) up to 4 meters (13ft).
The EinScan-Pro's comfortable, ergonomic design makes it the perfect choice for extensive, long-lasting projects. Weighing only 0.8kg (1.76lbs.) this light, handheld portable scanner can often create more-accurate and better-fitting parts when compared with from-scratch models from a CAD system.
The EinScan-Pro scanning software allows users to create "open" models for reverse engineering in a CAD system or it can create "closed" watertight models that are ideal for 3D printing.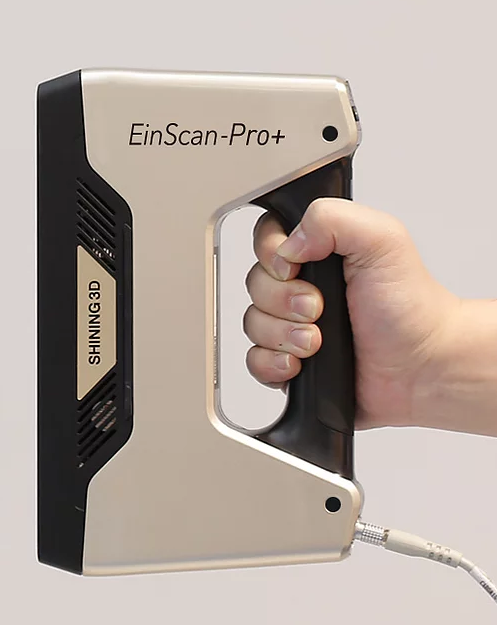 The EinScan-Pro+ carries on the consistent excellent scanning quality of the EinScan-Pro. It provides multiple scanning modes and delivers simple and fast scanning with its convenient handheld design. The new EinScan-Pro+, offers a brighter and more fashionable champagne-gold color. Although similar in appearance to the EinScan-Pro, it is full of new innovations:
Handheld high definition scanning mode (Handheld HD Scan) adopts a new international proprietary technology, achieving a perfect combination of 3D scanning speed and acquisition details.

The range of single-frame scanning has been enlarged 1.6 times, to offer a comprehensive improvement in the scanning speed, in handheld scanning mode.

EinScan-Pro+ offers an enhanced handheld HD scanning mode by implementing and using an intensive line-scanning strategy. The original 7 data capture lines have been increased to 100 lines. The scanning speed under the handheld HD mode has been increased to 550,000 points/second.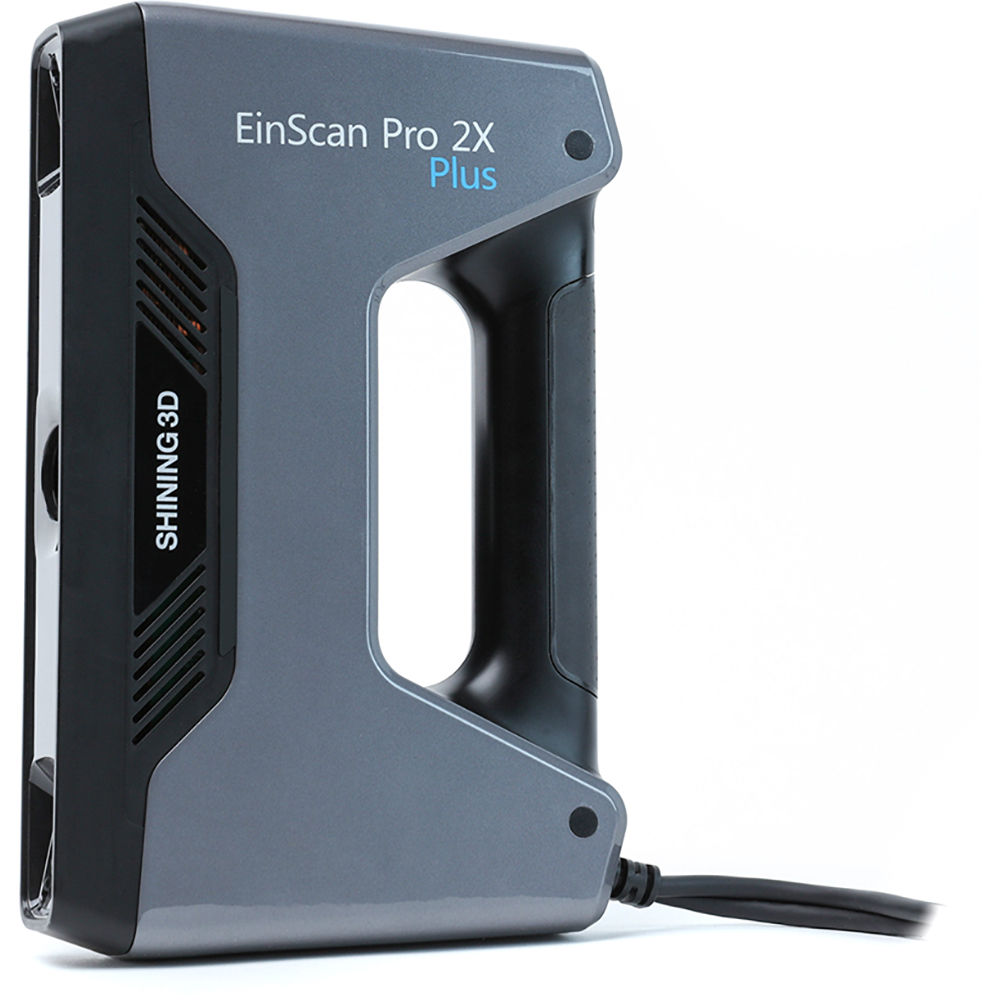 With the evolution from the EinScan Pro series to the EinScan Pro 2X series, SHINING 3D brings professional handheld 3D scanners to the market with competitive prices. All EinScan handheld 3D scanners are portable and easy to use, supporting versatile scan modes including Handheld Rapid Scan, Handheld HD Scan and Fixed Scan with/without a turntable. With a modular design, these handheld 3D scanners can capture an objects' color and texture with the optional Color Pack accessory and can work as a desktop 3D scanner with the optional Industrial Pack. The HD Prime pack accessory enhances the Handheld HD scan mode of the EinScan Pro+ & the EinScan Pro 2X Plus. Featuring high-speed, high-accuracy and fine detail scans, the EinScan handheld 3D scanner greatly improves efficiency of high-quality 3D modeling.

The scanner is now bundled with 

Solid Edge SHINING 3D Edition

, a powerful design tool from SIEMENS PLM Software, providing users the solution covering "3D Scan – Intelligent Design – Print in 3D" to generate more high-quality 3D data for production.